Voor de Nederlandse versie, klik hier >>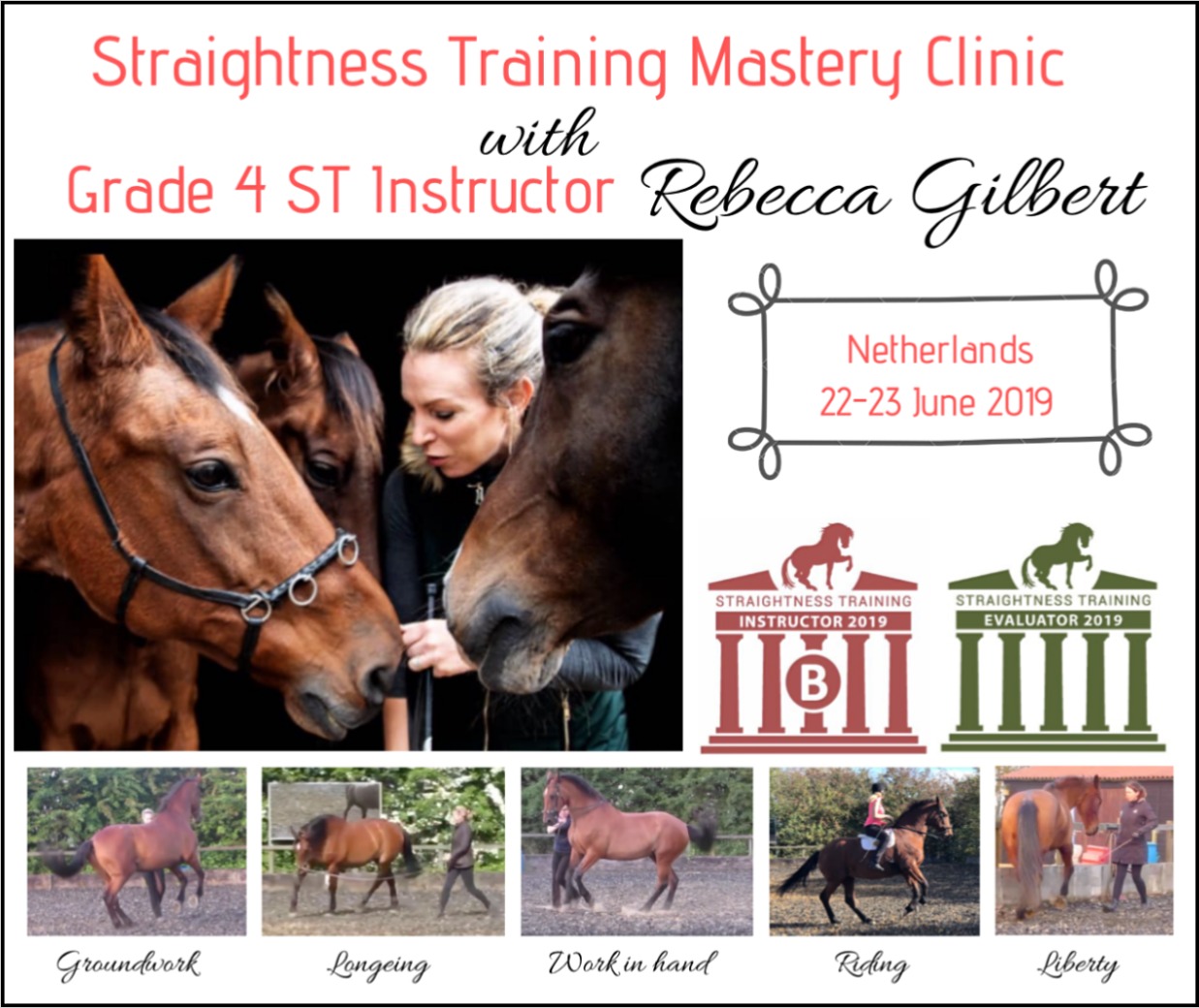 Prepare yourself for an unforgettable weekend!
And join the unique clinic with Rebecca Gilbert!
She already teaches in the UK, Germany, Italy and the USA – and this summer, for the first time ever, she will come to the Netherlands!
Rebecca is an English Straightness Training (ST) Instructor and at the end of 2018, she achieved the 4th Grade with her 20-year-old mare Milly.
With that, she also was the very first who achieved this Grade!
Now, in Straightness Training, there are 5 Grades.
And each Grade is divided into 5 training components, which we call pillars:
🏛 Groundwork
🏛 Longeing
🏛 Work in hand
🏛 Riding
🏛 Liberty
When all 5 pillars are sufficiently confirmed, you can achieve a Grade.
Next, you can start working in the same pillars on a higher level; on your way to the next Grade.
This way, you keep on developing yourself and your horse, according to a logical and proven system!
Curious how this looks like in practice?
Then check out this video, with Rebecca and Milly in action in the Groundwork pillar, at the 4th Grade level:
The work from the ground is great preparation for riding:
Actually, Milly isn't a natural born talent when it comes to dressage: she jas a long back, a heavy constitution, is 20 years old and on top of that, she has arthrosis…
But thanks to Rebecca and the logical, consecutive steps of ST, Milly developed into a muscled, athletic horse.
So, when Milly can do it, our horses can, too! 😉
Rebecca knows how to get there.
And so this summer she will come to the Netherlands for the first time!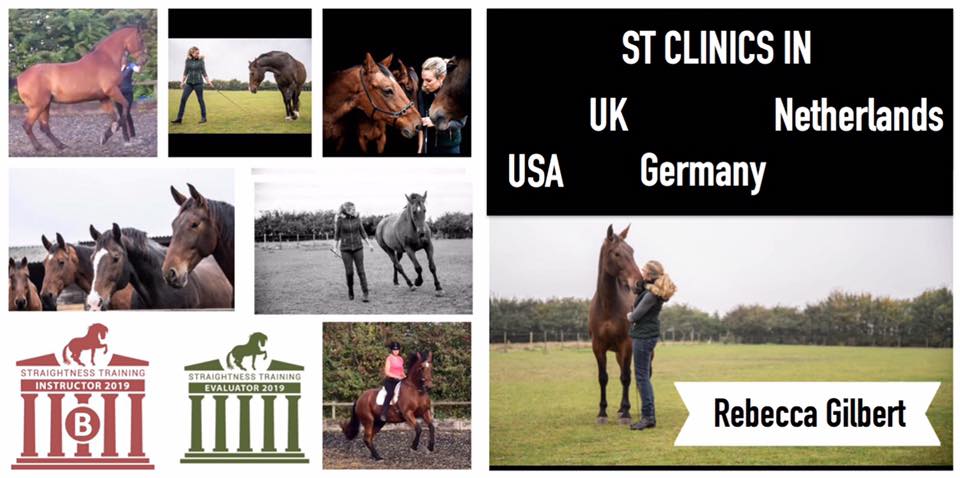 Moreover, this clinic is an exceptionally rare occasion to see multiple ST Instructors in action – right in front of your eyes!
Grab a seat and get ready to enjoy the different riders and horses who will share a piece of their journeys with you:
🦄 Anouk Wienia, ST Instructor, 3th Grade (NL)
🦄 Carolin Moldenhauer, ST Instructor, 3th Grade (DE)
🦄 Kim Steutel, ST Instructor, 3th Grade (NL)
🦄 Rosan Veer, ST Instructor, 2nd Grade (NL)
🦄 Annita van de Kraats, ST Mastery student, 1st Grade (NL)
🦄 Christine de Groef, ST Mastery student (BE)
🦄 Imke Smit, ST Mastery student (NL)
Rider spots are all filled, but you can still be there as a spectator!
And also as a spectator, you will return home with a head full of ideas, a heart full of inspiration and a notebook full of golden nuggets.
How, what, where?
*~🌟~*~🌟~*~🌟~*~ DATE & LOCATION ~*~🌟~*~🌟~*~🌟~*
Saturday 22 & Sunday 23, June 2019
Hoevelaken, Netherlands
*~🍴~*~🍴~*~🍴~*~ FOOD & DRINKS ~*~🍴~*~🍴~*~🍴~*
We take care of food and drinks during the day, so you only need to be occupied with the clinic!
There will be coffee, tea and biscuits available all day.
In the afternoon, there will be a fully catered Dutch lunch.
*~🇬🇧~*~🇬🇧~*~🇬🇧~*~ LANGUAGE ~*~🇬🇧~*~🇬🇧~*~🇬🇧~*
All lessons will be taught in English.
*~✈️~*~✈️~*~✈️~*~ AIRPORT ~*~✈️~*~✈️~*~✈️~*
Amsterdam Schiphol Airport is the nearest airport.
Plane tickets are not included in the clinic fee.
*~🏨~*~🏨~*~🏨~*~ HOTEL / B&B ~*~🏨~*~🏨~*~🏨~*
Here are some suggestions for places to stay for the night:
🛏 Hotel de Klepperman
🛏 B&B Groot Pepersgoed
🛏 B&B De Lotus
🛏 The Old Barn
There are more options available: please use Google to find a nice place that suits your wishes.
Overnight stays are not included in the clinic fee.
Make sure you are there because this is a not-to-miss clinic!
*~💕~*~💕~*~💕~*~ HERE'S WHAT YOU CAN EXPECT ~*~💕~*~💕~*~💕~*
💎 Two intensive theory sessions;
💎 14 practical lessons on Saturday and 7 practical lessons on Sunday;
💎 All lessons will be given by one of the two best ST Instructors on earth;
💎 Watching the live lessons of 4 ST Instructors and their horses;
💎 And with that, the perfect opportunity to witness Straightness Training on an advanced level;
💎 A valuable peek into the different ST journeys of 3 Mastery students and their horses;
💎 Fresh inspiration for the training of your own horse;
💎 New ideas and eye-opening concepts that can help you solve problems you might currently experience with your horse;
💎 Catching the fantastic but rare happening of meeting all 6 (!!) ST Instructors that are present at the clinic in real life, ask them your questions and just have a marvellous time together;
💎 A fun and inspiring weekend together with a bunch of other ST fans! Because together we can do more!
*~🌱~*~🌱~*~🌱~*~ INVESTMENT ~*~🌱~*~🌱~*~🌱~*
Investment riders => all spots are filled!
475 euro, including:
– a stable with straw on Saturday and Sunday
– unlimited hay
– possibility to use the outdoor paddocks
– two theory lessons
– three practical lessons with your own horse
– watch and learn from the other 18 practical lessons
– coffee, tea and biscuits
– a Dutch lunch on both days
Investment spectators
125 euro, including:
– two theory lessons
– watch and learn from all 21 practical lessons
– coffee, tea and biscuits
– a Dutch lunch on both days
You won't find more ST at one spot – this is going to be THE ST event of 2019!
*~🚀~*~🚀~*~ HOW TO ENROLL ~*~🚀~*~🚀~*
👉Register right away by sending an email to 📨 info@rosanveer.nl
And next, jump around! 😉💃
Such an exciting event to look forward to! 🙌